I am incredibly blessed. I am incredibly grateful, humbled and honored. I received a promotion from my work to become the new Area Manager for my office. This means that in addition to being the leader for implementing our programs, I will now also take the lead on fundraising and development for those programs. After 7 years with SMART Reading and starting as an Assistant Program Manager it was a really exciting achievement for me and another example of my workplace supporting me and encouraging my professional growth. For those of you that are "The Office" fans…it felt a bit like this…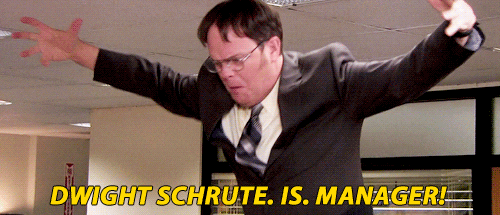 And on a more serious note, it felt like a major accomplishment and recognition of the hard work and effort I have put in. Below is a story I shared on my 3 year work anniversary that highlights what this job means to me…
Today I'm celebrating three years at SMART.

It's been a great place to work and I really appreciate all of the people I've gotten the chance to work with. Thank you to all of you, especially the people that share an office with me each day! I'd like to share a story that helps explain SMART's significance to me.

My grandpa was a great man. He was one of my heroes. I truly admired his humor, his wisdom, his giving nature and his storytelling. One of my favorite stories he would tell was about a little boy he read with at the local grade school. Apparently my grandpa was often paired with the "more challenging" students. Well, as he was reading one time this little boy grabbed the glasses right off of his face and said "Let's see you read now!" I can still remember the smile and tone he had while telling this story and how it was clearly a joy for him to read to those students.

My grandpa passed away just over three years ago. His funeral actually ended up being scheduled for the day before I was to begin my new job at SMART. At the reception there were tables with information about charities if people wanted to give money in my grandpa's name. My grandpa gave generously to his family and to many organizations, but at his reception there were only two organizations he chose. One was his Rotary Club to which he was a loyal member for many years. At the other table there were some drawings and pictures by little kids. They were thank you cards from children he had read with over the years…and the information of the organization…was SMART. All of those years of hearing that story and I knew that he read to kids at a local school, but on that day, the day before I took the next step in my career, I found out that I was going to work for an organization that my grandpa truly believed in, and I knew that he would be proud.

Thank you SMART for giving me the opportunity to be a part of something that was so important to one of my heroes.
This is fatherhood…